Uttrakhand is known as 'Devbhumi' i.e. 'Land Of The Gods' in India. It is famous for its temples and scenic beauty and this fascinates tourists to visit Uttrakhand.
Here are the top 5 places a person shouldn't miss visiting when in Uttrakhand.
1) CHARDHAM ( YAMNOTRI, GANGOTRI, BADRINATH, AND KEDARNATH )
Chardham is an important Hindu Pilgrimage Site in the Indian Himalayas. It is located in the Garhwal region of Uttrakhand. Chardham Yatra opens on Akshaya Tritiya and closes two days after Diwali.
# Yamunotri is known as the head of Goddess Yamuna.
# Gangotri is known as the head of Goddess Ganga.
# Kedarnath is one of the twelve Jyotirlingas. In 2018 a movie named 'Kedarnath' starring Late Sushant Singh Rajput and Sara Ali Khan was also released.
# Baadrinath is the seat of Hindu God Vishnu.
2) DEHRADUN AND MUSSOORIE
Dehradun is the winter capital of Uttrakhand. Mussoorie is a hill station in the Dehradun district. It is at an average altitude of 2,005 m. Bhadra Temple, Danaulti, Lal Tibba, Gun Hill are some of the famous places to visit in Mussoorie.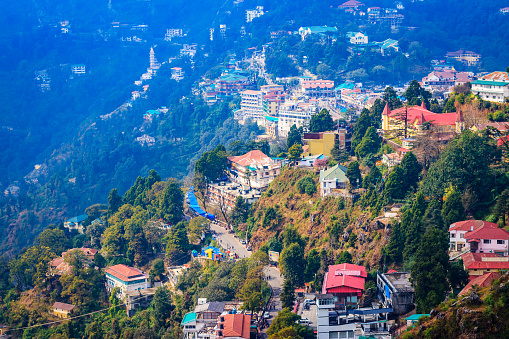 3) NAINITAL
Nainital is a city and popular hill station in the Nainital district. The high court of the state is located in Nainital. It is situated at an altitude of 1,938 m above sea level. It was famous for the Naini Lake and Naina Devi Temple. Some of the famous movies like Koi Mil Gaya, Vivah, Sirf Tum, etc have scenes shot in Nainital.
4) RISHIKESH AND HARIDWAR
Rishikesh is a city beside the Ganges River. The river is considered holy and Haridwar and Rishikesh are a center of studying yoga and meditation. Haridwar literally means ' the abode of Lord Vishnu '. Both these cities are alcohol and meat-free cities because of their holy nature.
5) MUKTESHWAR
Mukteshwar is a village at an altitude of 2171 m. It is famous for trekking, paragliding, and camping. It is also known for rock climbing and rappelling. Fruit orchards and coniferous forests serve as special attractions for tourists.
Apart from these, there are many other places like Almora, Bhimtal, Uttarkashi, Jim Corbett, etc which simply win one's heart by their breathtaking beauty.