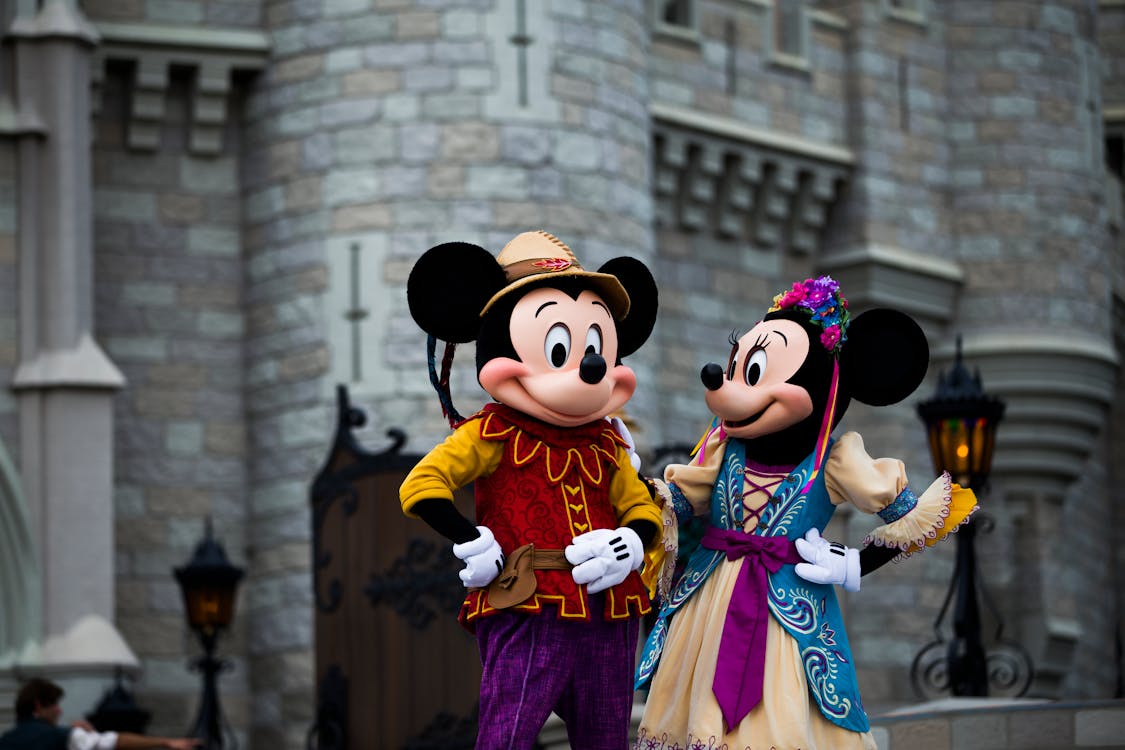 Photo by Bo Zhong on Pexels
Only a few people know that I have a guide in Spain. Yeah, I don't usually talk about them because we have met for only a few months, however, we have already enjoyed some awesome travels to Ibiza, Barcelona, and Castilla-La Mancha. We met in Plaza de Toros, Madrid. I remember when I saw them, they were disguised with a Micky Mouse costume and were asking me to take photos with them. At the first moment, I didn't want to, but something attracted my attention: The voice I heard was very different from the others. Therefore, my curiosity made me approach the mask folk and pay some pennies to take a photo ―which I will never publish on social media.
I took the advantage to ask them for an address I was looking for in my mobile phone. They pointed their finger to the store. I said, "gracias" and they answered, "nada."
When I finished purchasing the clothes that I wanted to wear for the Cervezada, I saw someone coming up, unmasked and very young, short and brown hair, brown eyes, beautiful and handsome at the same time.
They asked me if I had found what I was looking for. With my awkward Spanish accent I said, "not exactly, I took something similar." And they stared at me intensely, I thought maybe they didn't understand me, but they answered, "vale." They asked me, "do you speak English?" I nodded, "yes." They said, "if you want, we can speak English instead, I have been studying English for so long and I want to practice." They smiled…Then I became suspicious. Why would they ask me to speak English, maybe they didn't understand my Spanish?
Then they cut me off on my mid-thought, and asked me, "what was your name again?"
I answered in Spanish, "mi nombre es Marie."
"Mary," they repeated.
―My name is Pedri, Mary.
―Pedro?
―No, Pedri, I used to be Pedro, now I am Pedri.
―Ok!
―What is your phone number, Mary? We can keep in touch if you want.
―Great!
I tell them the phone number, and the typed "M-A-R-Y".
I said, "it is not MARY, it is MARIE, with an E."
He wrote "M-A-R-I-E", but once he had clicked the save button, the name changed automatically to "M-A-R-I-A".
Joder, he didn't notice. I faked that I didn't see it either.
He said, "what is your complete name?"
―Marie Cadette Pierre-Louis
―It is an amazing name. Mary Cadete something Luís. A very long and high standard name, it sounds like an intellectual and Bourgeoise name, or the name of some middle-aged woman of the grand chateau, something like Marie Curie, Marie Antoinette, Marie Lapierre…
I laughed…
―Ash, I forgot to tell you, my complete name is Pedri Alejandro Luís. You see! We have the same second last name.
I don't have any second last name, besides, their "Luís" is quite different than mine, however I just smiled without correcting them.
We got to the metro and handing to Mostoles, they were living in the southern part of Madrid too. I arrived at the Mostoles station and said bye to my new friend. And Pedri answered, "bye, see you! I will text you this afternoon, take cake amiga!"
Pedri referred to me as their friend! I was very happy…
At 7 PM, my phone buzzed, three messages.
―Hey M-A-R-Y, I am Pedri, the person you met with in La Plaza de Toros
―How are you M-A-R-I?
―Would you like to visit my pueblo M-A-R-I-A, I am from Ibiza. I will go next month, tell me if you want to travel with me.
I WhatsApp three messages too.
The first one at 7:05 pm. I didn't have time to read all the messages, then I said:
―No
I thought it was this very boring guy from the internet company.
Within ten minutes I remembered having met a very kind person in La Plaza de Toros, and I wondered why he hadn't texted me yet. I took my smartphone and opened my WhatsApp then I read the messages again. I saw: "Hey M-A-R-Y, I am Pedri, the guy you met in La Plaza de Toros."
I answered:
―Hi Pedri, my name is M-A-R-I-E
―Sorry, I thought it was Pedro, the guy from the internet company. Sorry, I would be very happy to visit Ibiza. Tell me the chosen date ASAP.