'Mahi' the captain cool of the Indian Cricket Team has been one of the most successful captains in International Cricket History. The legendary cricketer hails from the small city of Ranchi, Jharkhand, and has accomplished great deeds.
MS Dhoni was the only captain in the Indian history to win all the ICC trophies. The successful career of Mahi owes to the tremendous talent and hard work incorporated by him.

MS Dhoni is an inspiration for all the cricketers and fans around.
The talented star, Mahendra Singh Dhoni, is amongst the most famous cricketers in the world and most loved by his fans, who are known not just for his helicopter shot but his astounding sense of humor too. The life story of Mahi has been beautifully engraved into the movie MS Dhoni untold story.

The cricketer recently announced his retirement from all international formats, which came as a shock to many. It's time to reminisce the entire colorful career all over again through the iconic lines said by him. Here are some of the best and famous MS Dhoni Quotes that will forever remain a source of inspiration for millions of us.

MS Dhoni Inspiration Forever. Best MS Dhoni Quotes ever.
Here are some quotes by MS Dhoni, our very own Mahi, for you to cherish and get inspired:

1. "Cricket is not everything, not by any means, but it is a large part of who I am. Therefore, I want to play in all the formats of the game and to play as much as possible because, before long, it will be over."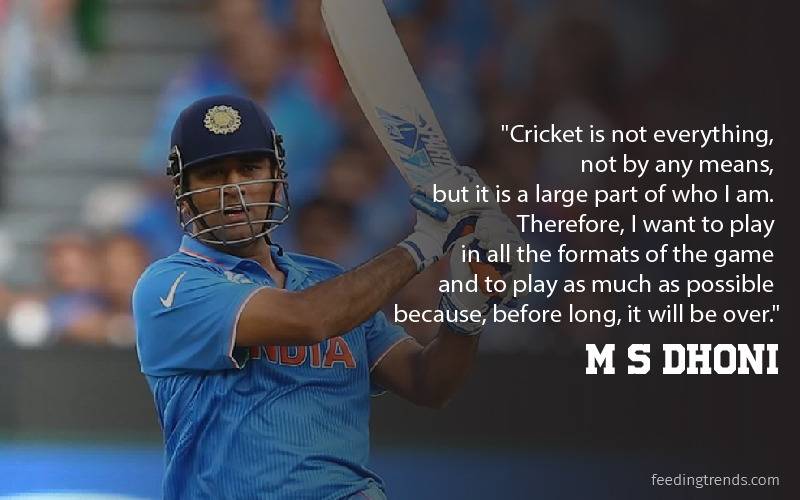 Indeed MS Dhoni played all the formats of the game and is the only captain to bring home all the ICC format trophies. This quote by Dhoni points out the evanescent part of life and that we must make good use of the time due to us.
2. "Strong Characters are needed in the game."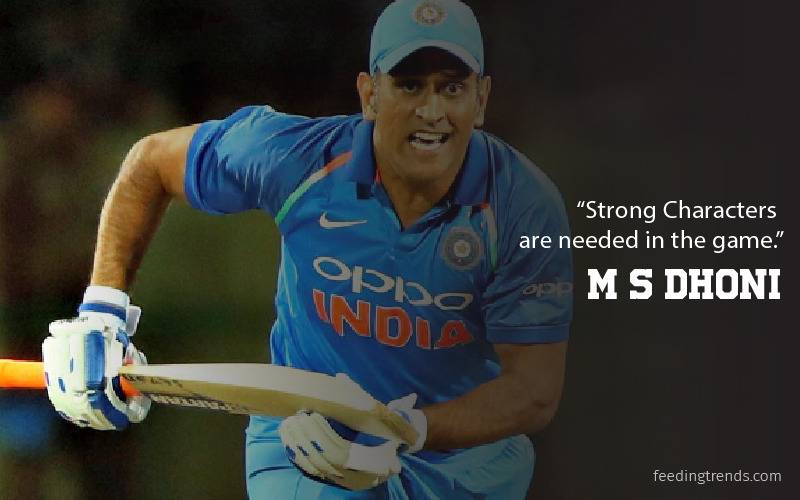 A cricket game is full of wit, action, reflex, and form. Every player should be careful, fast, and coordinated. Handling pressure and stress are the most powerful qualities that keep your game strong.
3. "I like to make statements on the field."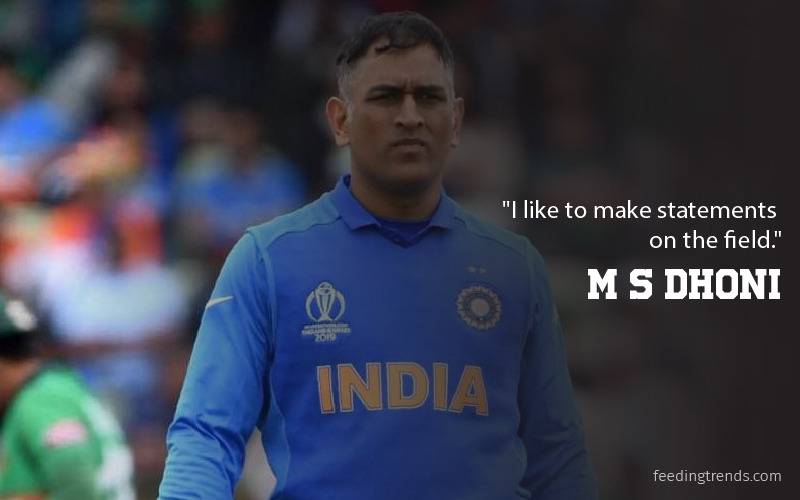 4. "I love to be in the moment; I love to analyze things a bit."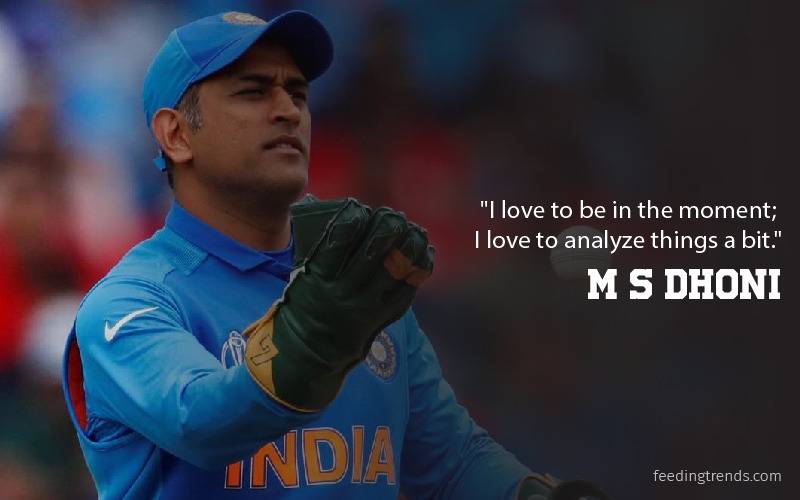 MS Dhoni gives the inspiration to be cool minded and calculative. His decisive powers were at par with his excellence and enthralled everyone. This quote by MS Dhoni will empower you if you take being in the present for as long as you can as a lesson.
5. "Leadership is the capacity to translate vision into reality."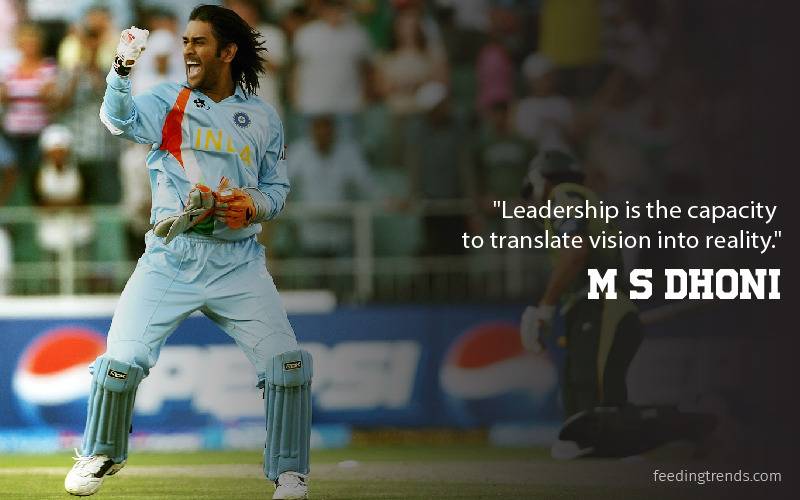 The famous MS Dhoni quotes are all about his real-life experience, judgment, and realization. You must watch MS Dhoni untold story (a biopic made on MS Dhoni) to see the transformation of his visions and dreams into reality.

6. "You don't play for the crowd; you play for the country."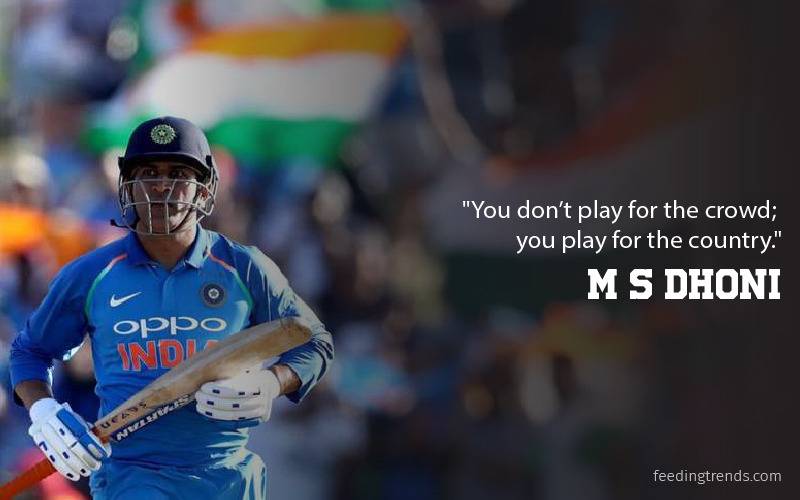 The love for the country, India, is infinite. In this quote, Dhoni teaches his fans and teammates to play and throw sweat for the nation. He loved bringing honors to the Indian Cricket Team and has been the most active member of the Indian team.

7. "You have seen cricketers who are not god-gifted, but even then, they have gone far. That's because of the passion."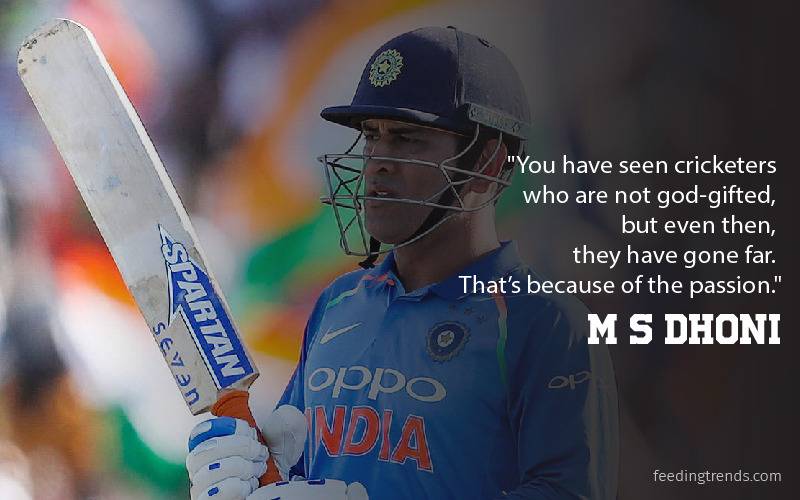 8. "Gut feeling is all about the experiences that you have had in your life. It is about being in difficult scenarios, knowing what worked, what did not work, and then taking a decision."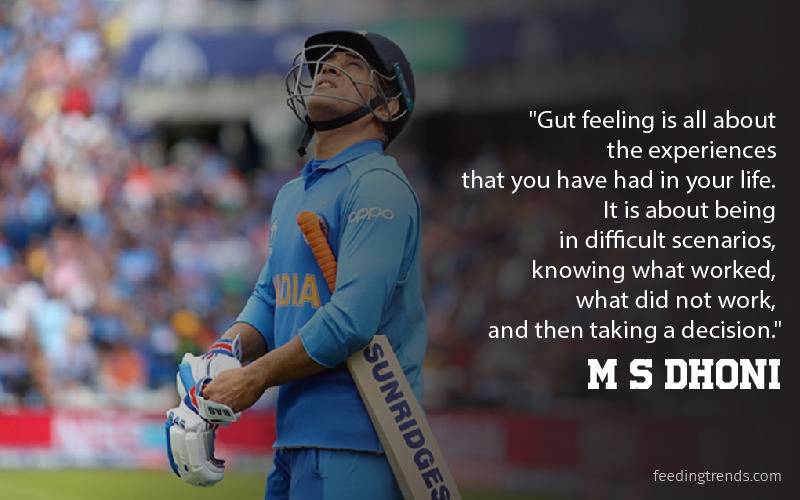 9. "Self-Confidence has always been one of my good qualities. I am always very confident. It is in my nature to be confident, to be aggressive. And it applies in my batting as well as wicket keeping."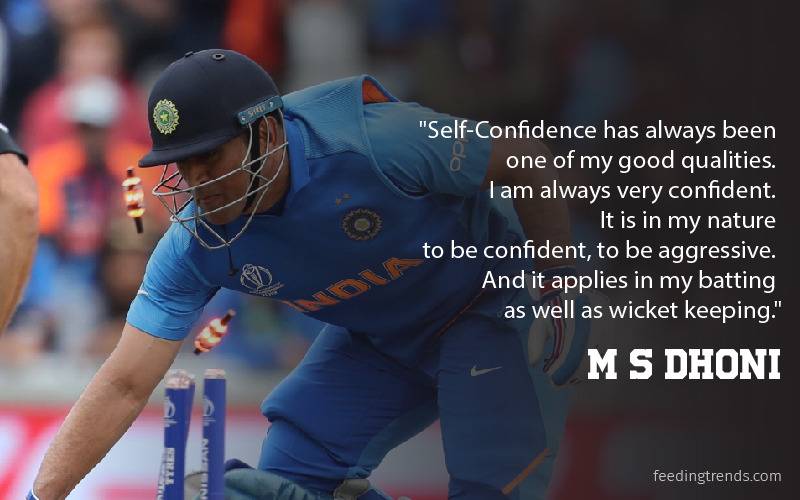 Mahi's confidence has been a great stand out and a pushing thing for him. Even his biopic, the untold story of MS Dhoni, tells the tale about his self-actualization and confidence.

10. "If you don't really have a dream, you can't really push yourself, you don't really know what the target is."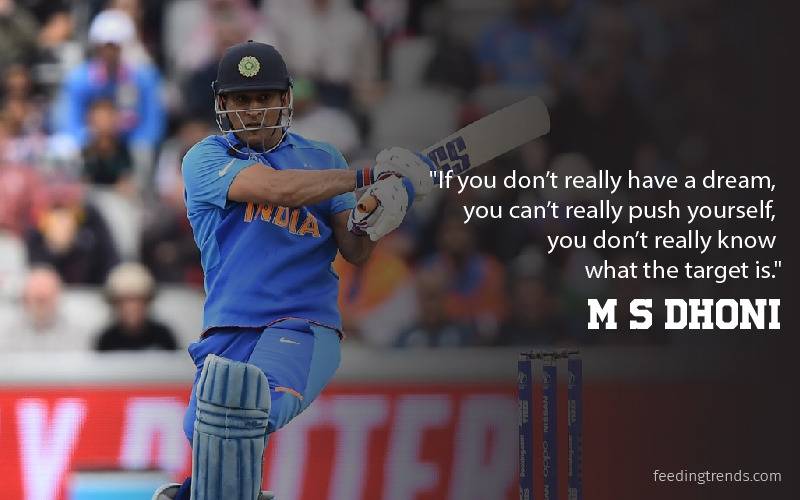 11. "For me, it is important to build good partnerships rather than score centuries. Once, you have those partnerships; you will also get centuries."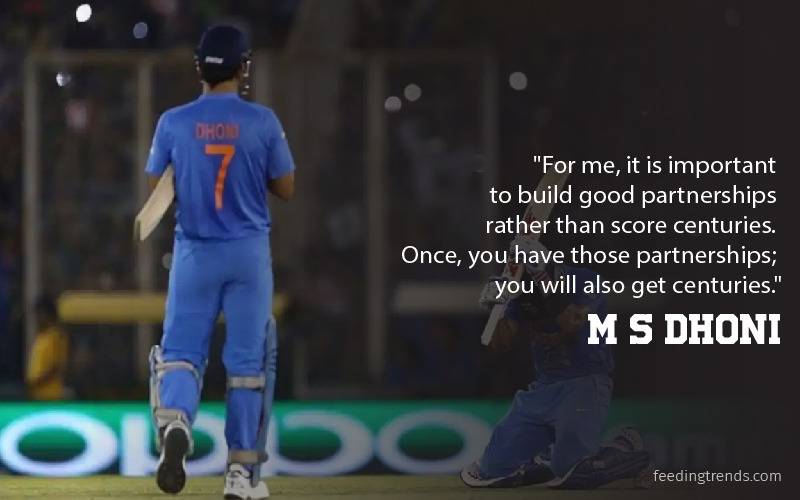 He is known for being very supportive and cooperative. Mahi loved to keep his teammates strong, calculated, and coordinated. Who can forget the iconic winning partnership of him with Gautam Gambhir in the year 2007?
12. "I don't regret anything in my life. What does not kill you makes you stronger."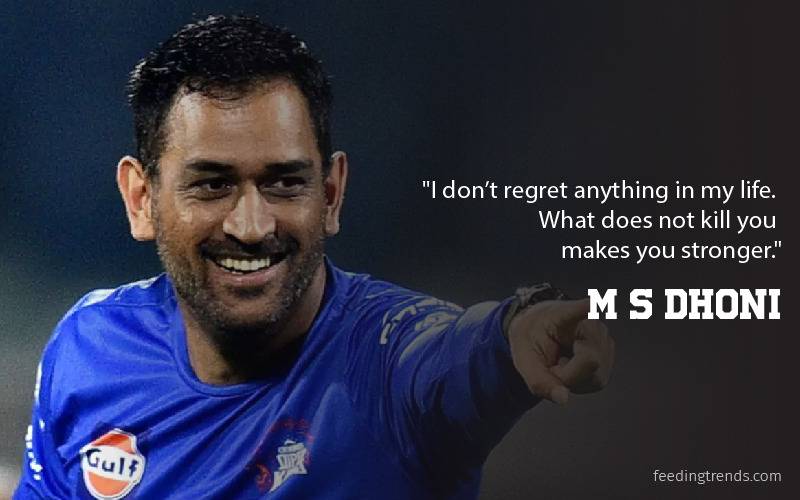 13. "I believe in giving more than 100% on the field, and I don't really worry about the result if there's great commitment on the field. That's a victory for me."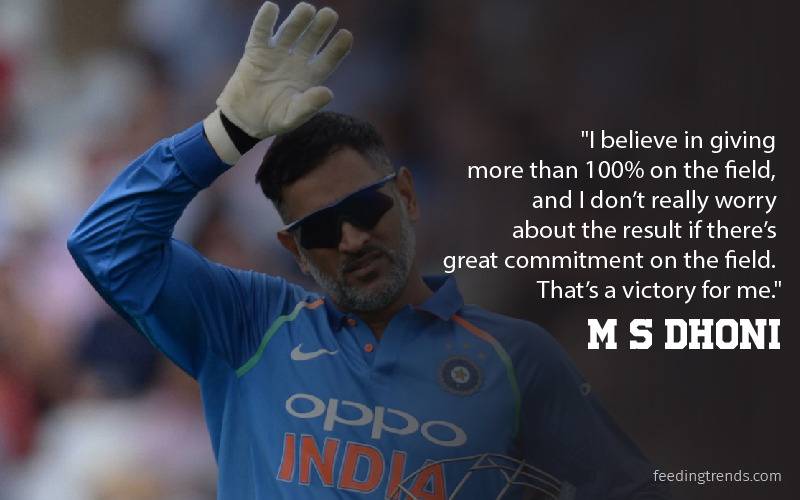 Watching Dhoni on the field is always a treat to the eye. He is the class player who gives all his power, sweat, and hard work into his game. The struggle and passion are the two things defining the MS Dhoni Inspiration.
14. "I focus on cricket because it is something I am good at."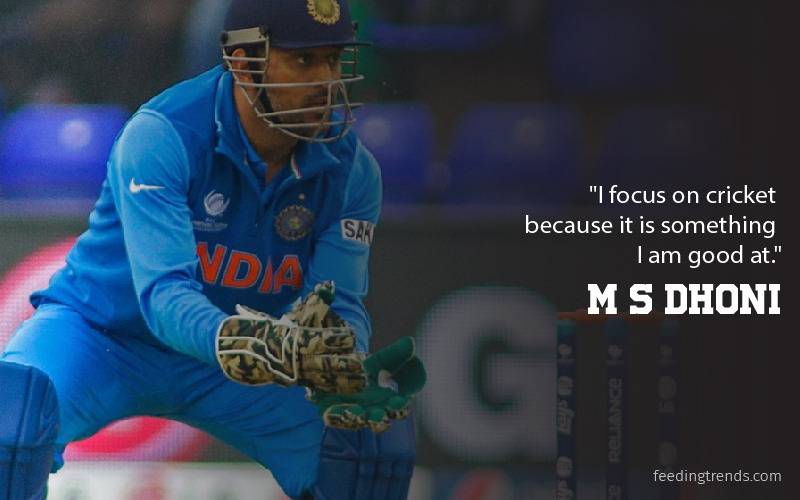 This inspirational quote by MS Dhoni reveals that success depends on your skills and dedication. If you focus on doing something you are good at, nobody can stop you. The sky's the limit when you've launched yourself in the game where you can perform well.

15. "Till the full stop does not come; the sentence does not complete."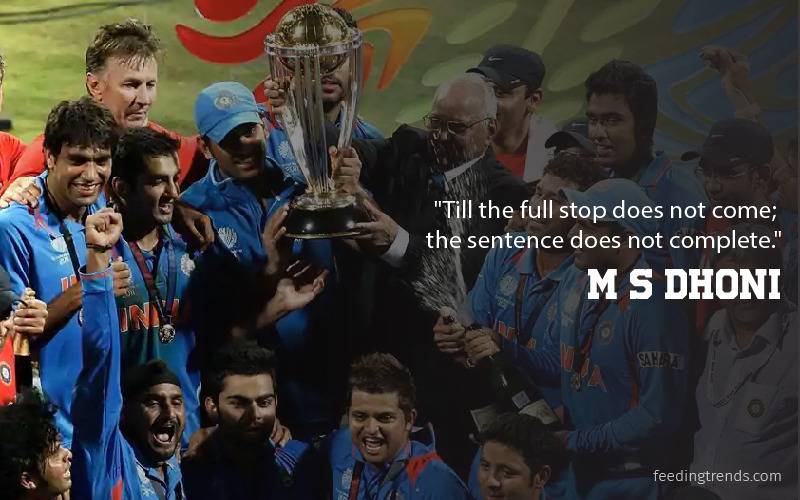 The international career of the player may have come to an end, but still, there is a lot more to see of him. MS Dhoni has always been an optimistic and supportive captain and person.

16. "It's important to learn and not make the same mistakes, what's done is done."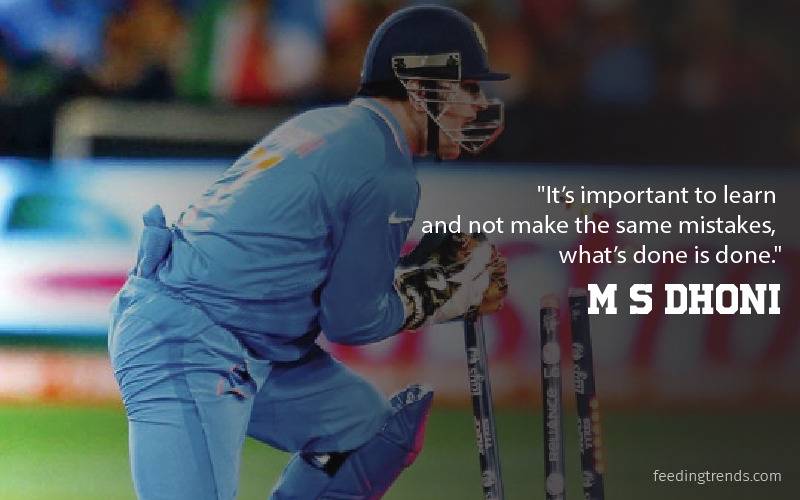 17. "Listen to your elder's advice not because they are always right, but because they have more experience of being wrong."
18. "Take action in silence, No lion attacks in noise."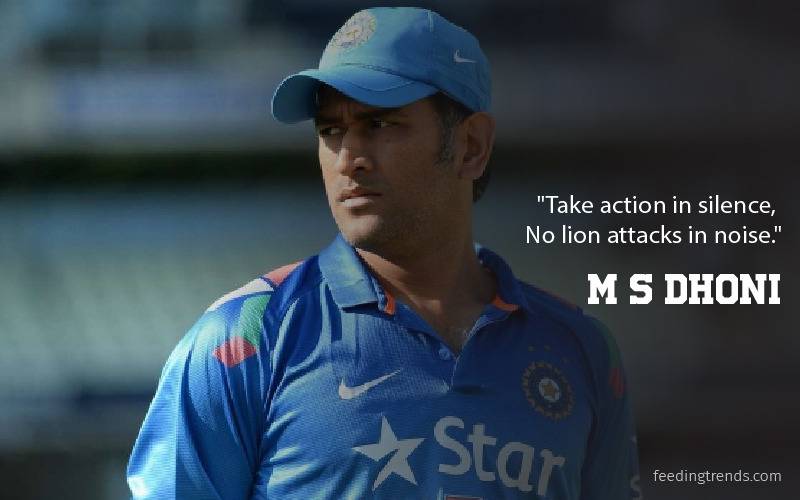 19. "It's like having 100 kgs put over you. That's good enough to weigh you down. After that even if you put a mountain, it will not make a difference."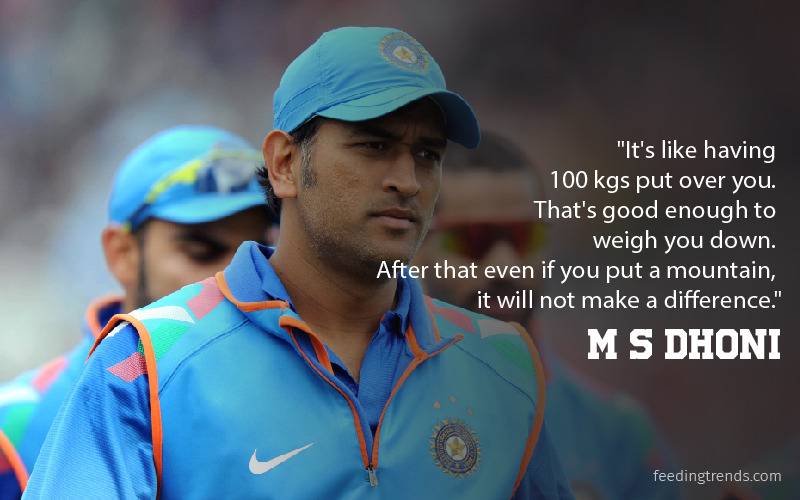 When in 2014, MS Dhoni was asked about the pressure which comes with leading India in all three formats of the game, he confidently communicated that he is now used to it. In the quote above by MS Dhoni, he clearly says that after a time, you stop feeling the tensions, you stop being afraid. So motivating!

20. "When you die, you die. You don't think which is the better way to die."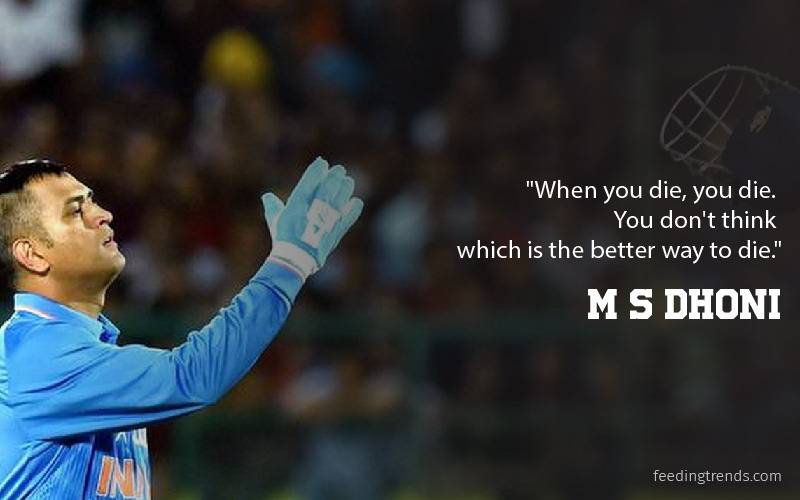 21. "For me, opposition is just another opposition."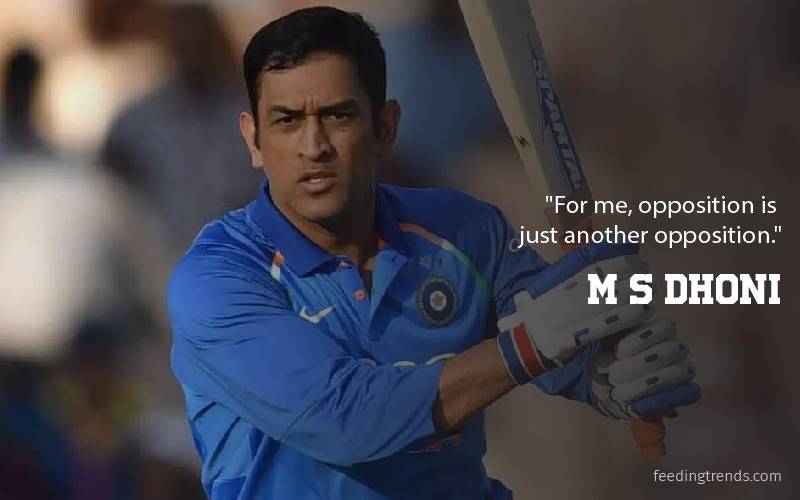 22. "Face the failure, until the failure fails to face you."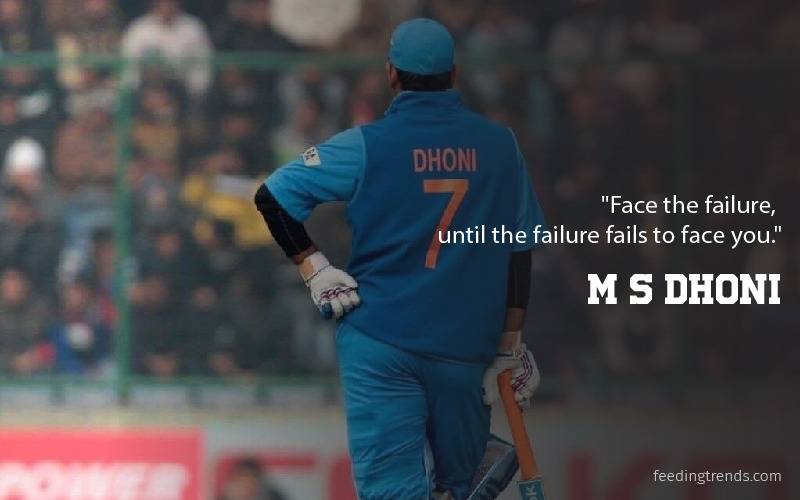 23. "The process is more important than the results. And if you take care of the process, you will get the results."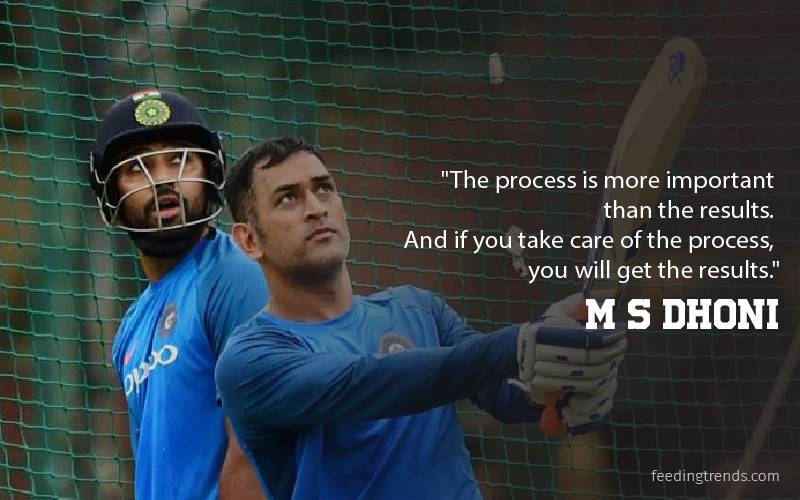 24. "A loss makes you humble. It tests the other batsmen and bowlers. Also, if you keep winning you don't now what area you need to work on."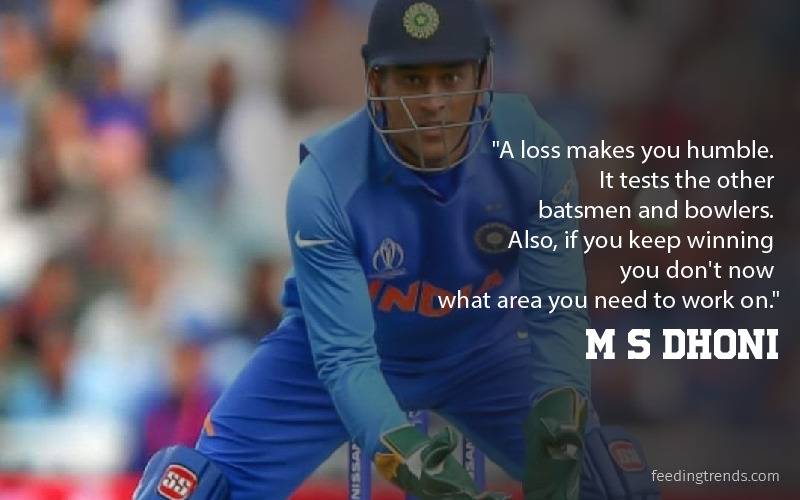 25. "I don't mind repeating everything."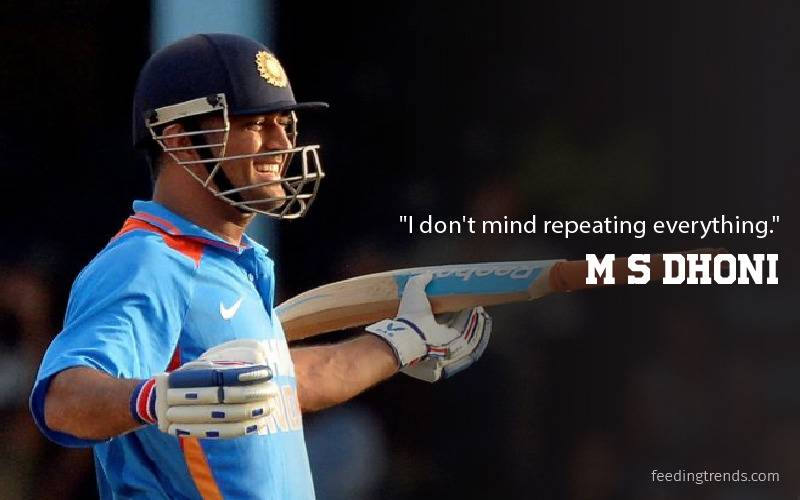 The aura of beloved Mahi is quite extravagant in the movie MS Dhoni untold story. Being one of the most successful team captains yet so down-to-earth person, dedicated family man, and a charitable human being is what makes Mahi so phenomenal.

His personality is quite exhibited by some of the most famous MS Dhoni quotes which tells a lot about his character and mindset.

MS Dhoni Retirement - But the untold story of MS Dhoni continues.
Mahendra Singh Dhoni, the pride of India, announced his retirement from international cricket recently by a single post at 7:29 pm. All the fans were shocked and cherished the player's epic cricket career, spanning over all the game formats.

There were heartfelt messages and comments on MSD's posts with twitter telling him how great he is and how badly everyone wanted to see more of him on the cricket field. MSD is inspirational forever!

Shortly after the announcement, his teammates, including the current skipper of the Indian team, Virat Kohli expressed his gratitude and love for Mahi by posting a beautiful picture of them together. The former team members like Sachin Tendulkar, Virender Sehwag, and Ravichandran Ashwin also extended their wishes and congratulated the 39-year-old over his glorious 15 years in the Cricket Career.

Though one phase of the journey is complete, MS Dhoni inspiration lasts longer than that. There is still a lot of 'MS Dhoni's untold story' and parts left behind. Although, you will be able to see him in the IPL, and some other events. However, the famous MS Dhoni quotes are ever ready to enlighten the hopes and confidence of people.

And in the end, we thank you Mahendra Singh Dhoni, our beloved Mahi, for making Cricket as a sport in India reach such a great height and popularity. We hope to see many more Indian cricket players like MS Dhoni in the future, who would be as inspirational and as dedicated as you are on the field.

It is always a treat watching you play!