Barbara Ann Corcoran is an American businesswoman, investor, speaker, consultant, syndicated columnist, author, and television personality.
She is the founder of Corcoran group, Barbara Corcoran Inc. and Forefront Venture Partners. Her present net worth is US$ 80 million.
Key Highlights from Barbara Corcoran's Life
Barbara Corcoran was born on 10th of March 1949 in Edgewater, New Jersey. Presently, she lives in Manhattan with her husband Bill Higgins and two kids. She graduated from St. Thomas Aquinas College, with a degree in education.
After that, in the year 1971, she started her career as a teacher in a school and continued for a year. But she soon left it and started doing various jobs, which included renting apartments in New York City.
She wanted to be her own boss. So, she decided to set up a real estate business with her boyfriend Corcoran-Simone. After splitting up with him, Barbara formed her own firm, The Corcoran Group. This was the turning point in her career. In the 1970s, she also began publishing The Corcoran Report, which covered the real estate data trends in New York City.
In 2001, Barbara sold her business to NRT Incorporated for $ 66 million. After that, she started investing in businesses. As a television personality, she is a "Shark" investor on ABC's Shark Tank and has invested in more than twenty businesses till date.
She is also a real estate contributor to NBC's 'Today' show She is a columnist in 'More Magazine', 'The Daily Review' and 'Redbook' and writes weekly in 'New York Daily News'. She has written several books and has also been featured in various television shows like 'Larry King Live' and hosts 'The Millionaire Broker' in CNBC.
Barbara Corcoran Quotes That Speak Volumes
As a self-dependent and self-built woman, she inspires many ladies as well as men to be their own boss. She also tweets many quotes in relation to her real-life experiences, her journey to success and business growth.
Here are 21 of the best Barbara Corcoran quotes, which will help you fight through your failures:
1. Don't you dare underestimate the power of your own instinct.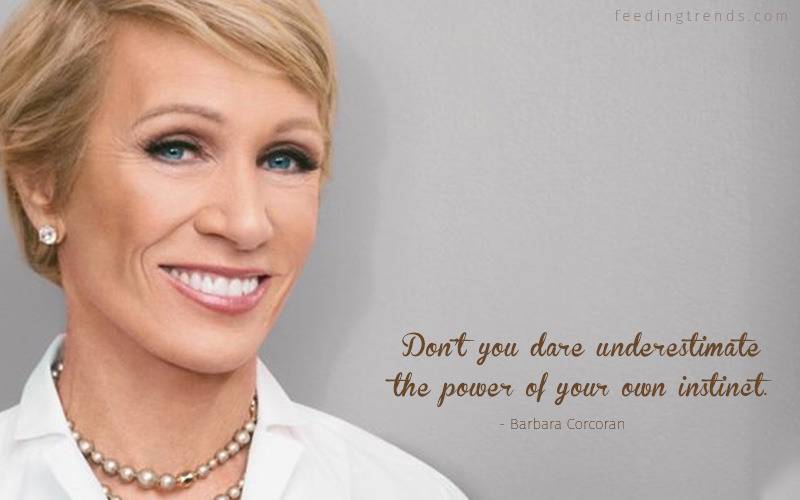 This is one among the most powerful quotes for business leaders. Nobody knows your business better than you. So, if you have a gut feeling that something is not right one something has to be done no matter what, go for it.
2. A complainer is like a death eater because there's a suction of negative energy. You can catch a great attitude from great people.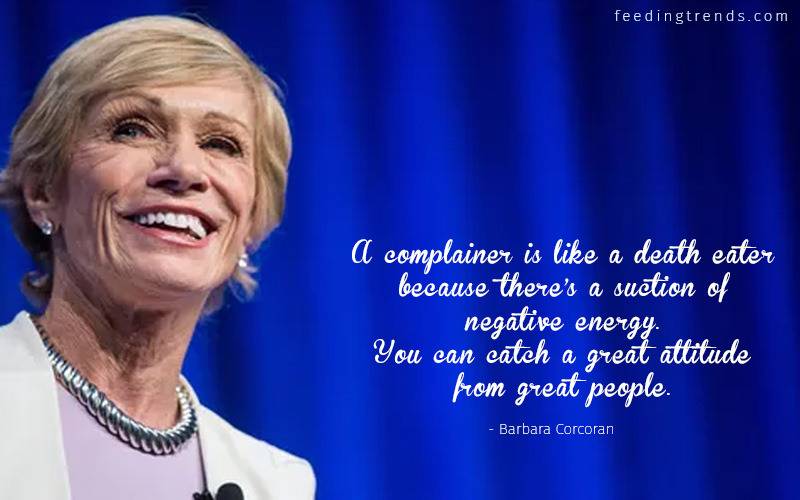 This above quote by Barbara Corcoran is full of experience. It dictates one of the underestimated rules in business, which is neglected by most. Stay positive and keep a bunch of motivational quotes by your side.
3. The difference between successful people and others is how long they feel sorry for themselves.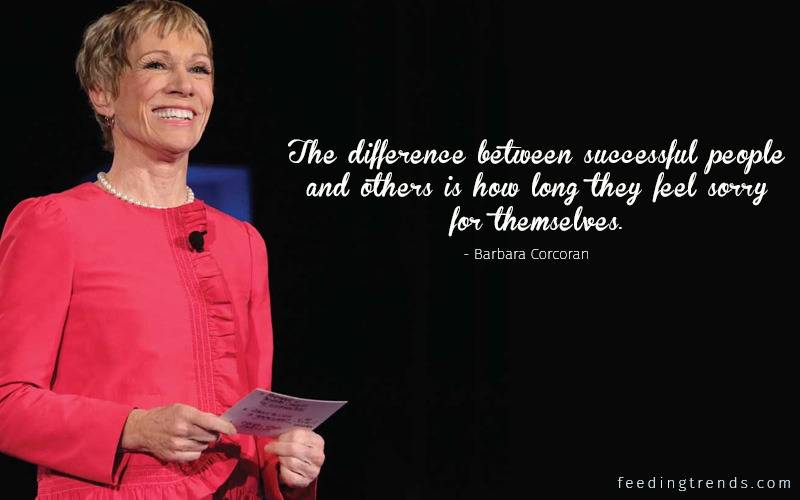 Most successful business persons have one thing in common. They are always true to themselves. Even if they fail, they will keep themselves motivated. They will not sit back depressed in any condition. They will not feel sorry for themselves.
4. Finding opportunity is a matter of believing it's there.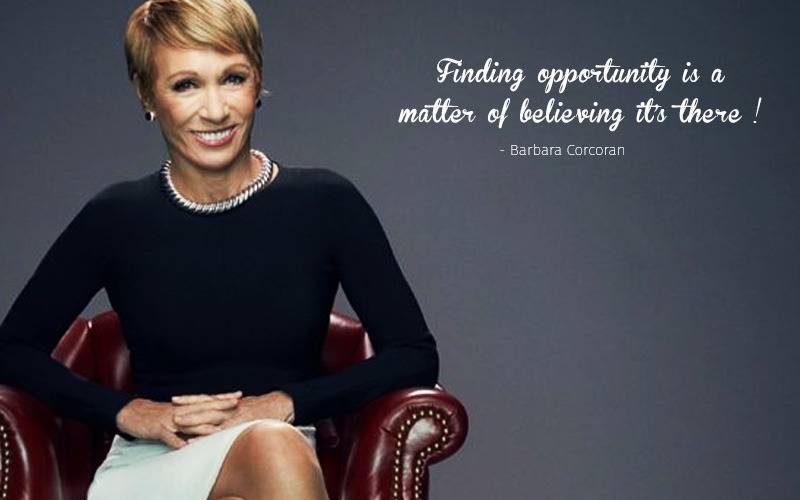 If you're an entrepreneur, you have the capacity to dig out water out of dry well. This is among those inspirational quotes which tell us how important it is to have a self-belief and self-confidence. After all, nothing worth having comes easy.
5. Stop putting it off! Procrastination breeds guilt, guilt breeds depression and depression breeds failure.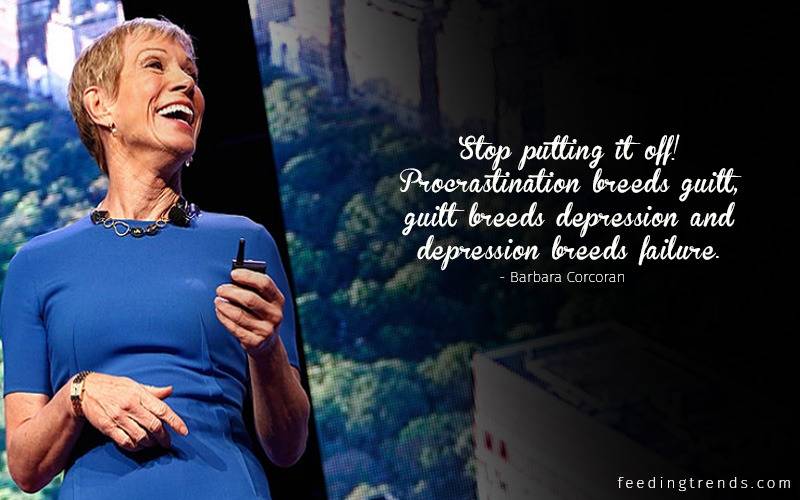 Overthinking is prohibited in startups. Business is all about living in the present and finding solutions every day. The ultimate aim is to do better than yesterday. This quote about never stopping attitude, is a gem among all Barbara Corcoran quotes.
6. Always choose attitude over experience. Always.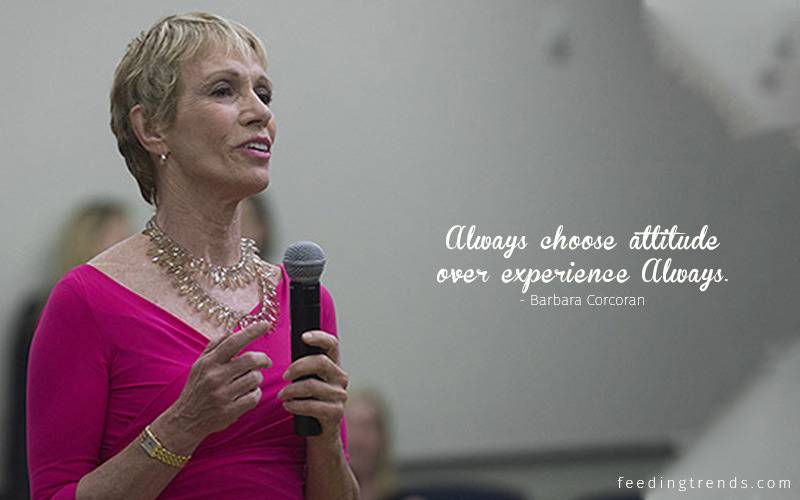 Every Business is startup and every startup wants that 25 people who will be pillars for the future. Hence attitude plays a more important role than experience. It is one of the Famous Barbara Corcoran quotes that describe the importance of attitude in business.
7. My best success came on the heels of failure.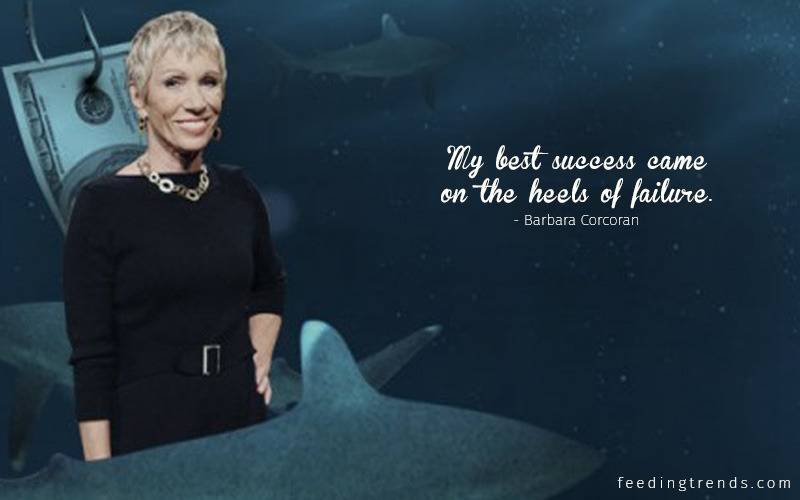 Everybody knows that Barbara Corcoran's net worth is $80 million dollars (as of 2017). The reason is she knew how to make a success out of her failures. You should take lessons from your shortcomings, improve on them and become an achiever.
8. Play up what you've got and don't waste time worrying about what you don't.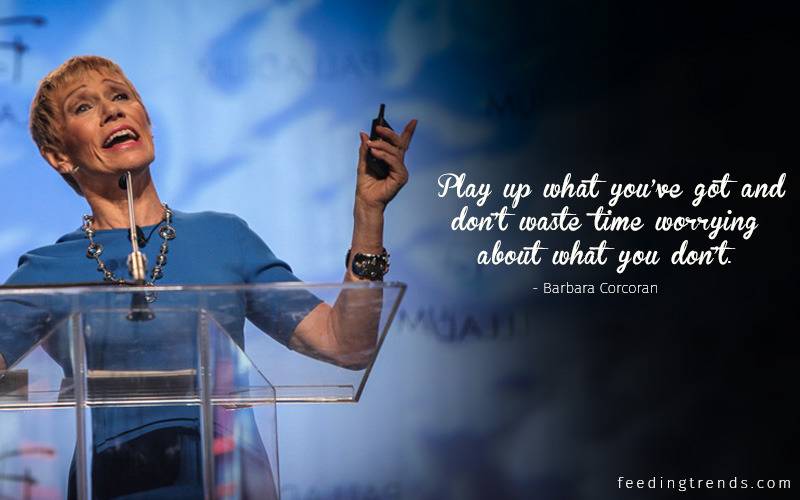 Being one of the Barbara Corcoran best quotes, it beautifully notes down a rule of thumb. An entrepreneur must know how to execute tasks with the available resources and within the designated limits. You will never have enough resources to do something big.
9. The biggest challenge in business is not competition, it's what goes on inside your head.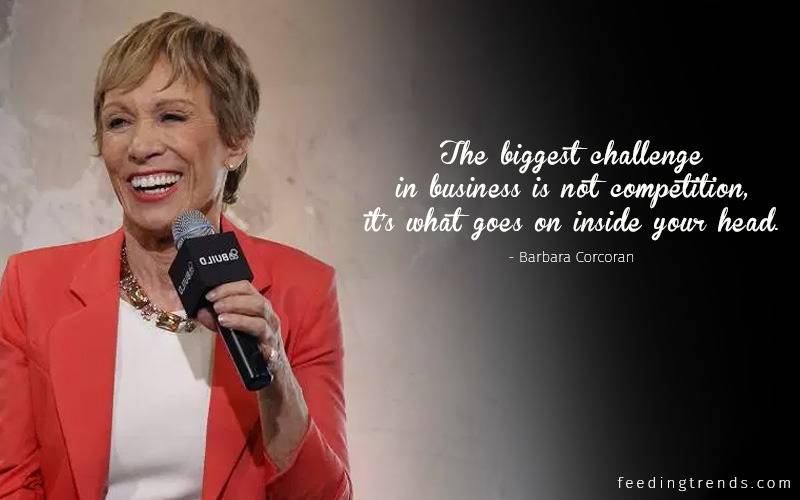 Read this Barbara Corcoran quote and look at yourself in the mirror. The person standing in the mirror is your competition. In simple terms, you are the biggest competition to your own self. Don't panic by what others are doing. Focus and conserve your own energy.
10. When it comes to hiring, the best people are honest plus have lots of enthusiasm. I don't care about resume - the right attitude always wins.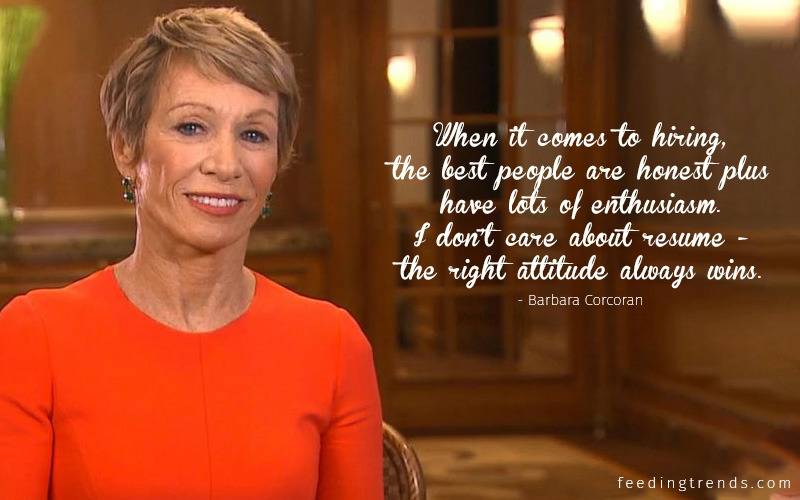 This is one business quote about team building that puts hiring in plain and simple words. You must not go by what is written in the resume. You must select a person by their will power, confidence and skills. You will make the best team with like-minded people!
11. Don't be afraid to go for positions, jobs or take on clients just outside of your knowledge base. It's when you're uncomfortable that you learn and grow the most.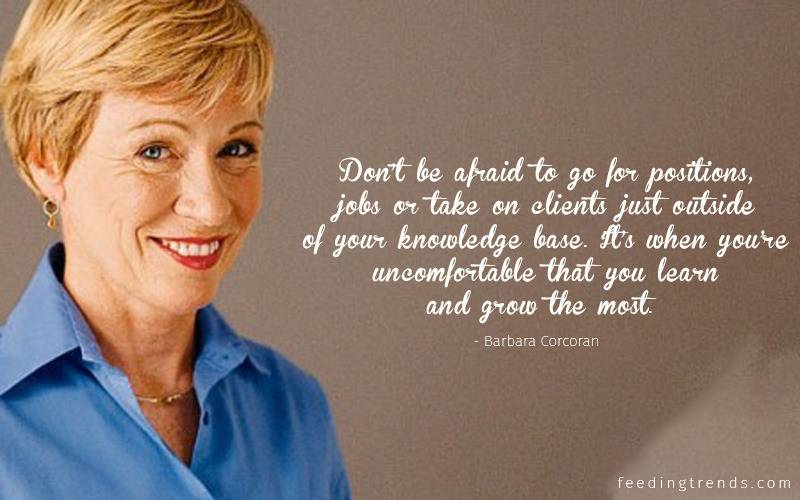 This is the best entrepreneurship quotes – it motivates and educates at the same time. Barbara Corcoran has seen a lot of hard times. She had to move out of her comfort zone to accept challenges and become whatever she is today. This quote is bespoke of her experience. Take a note of this.
12. You don't have to get it right, you just have to get it going.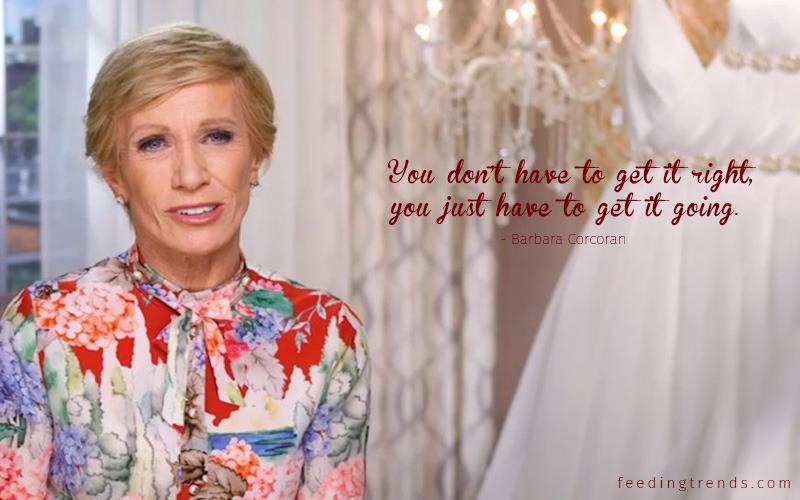 You can't sit for the right kind of people, the right process, the right sum of money, right kind of decorum or right kind of opportunity when you are running a startup. You just have to live in the present. You don't need to be perfect. You just need to be regular. This is a powerful business quote and lesson.
13. If you stand back and analyze the best way to do something, you'll be standing there forever. Follow your gut and jump right in!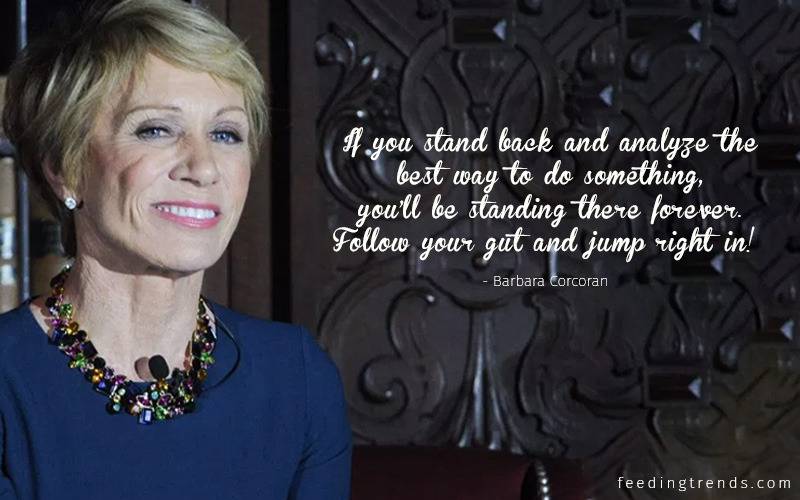 This top quote by Barbara Corcoran again tells you that you can't wait for the right time. If you want something, 'go get it period'. If you keep fearing for the right way or keep waiting for right time, you may lose the battle even before starting to fight.
14. Some of the worst pitches here are the people who talk all fancy who've been to business school.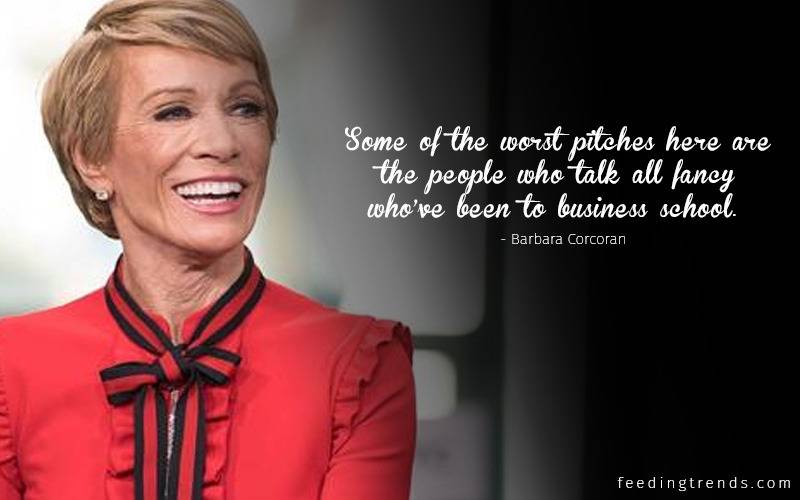 When it comes to explaining or telling about your business, the most successful deliveries have been by the people who don't make it complex for the listener. Barbara Corcoran's pieces of advice that the fancy b-school words are not required to explain it. It is just the natural simple language that is strong enough to make an impact.
15. I have a theory and I really believe it. I think your worst weakness can become your greatest single strength.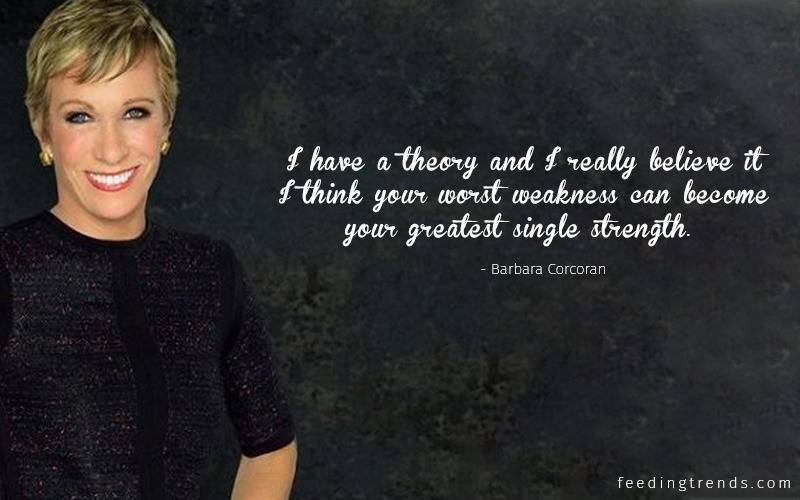 One of the most successful businesswomen of Shark Tank fame, Barbara Corcoran nails it with this quote. She considers unpredictability as the greatest opportunity. It is one tool with which you can transform your weakness into your strength.
16. Resentment is like drinking poison and then hoping it will kill your enemies.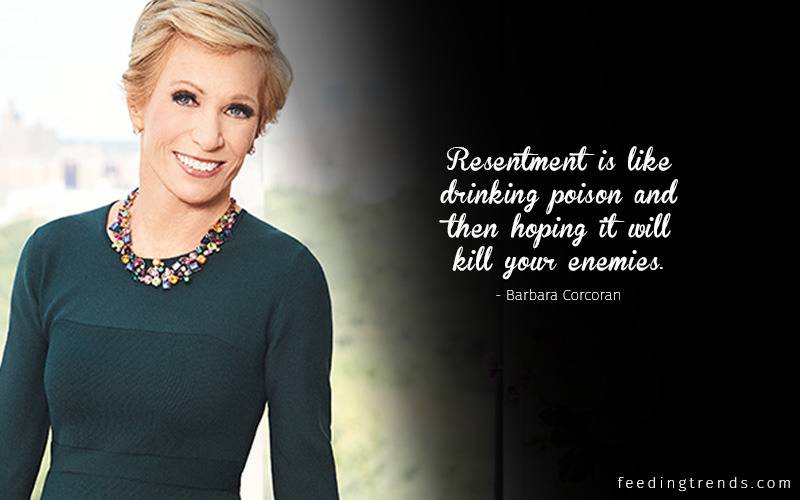 This is one of the not so famous Barbara Corcoran quotes. But, coming from a woman who built her business and personality like a man, the quote banks on practicality. Business is about lows and highs. You must be ready for everything.
17. Everybody has something they excel at. You need to figure out what yours is and build a life around it.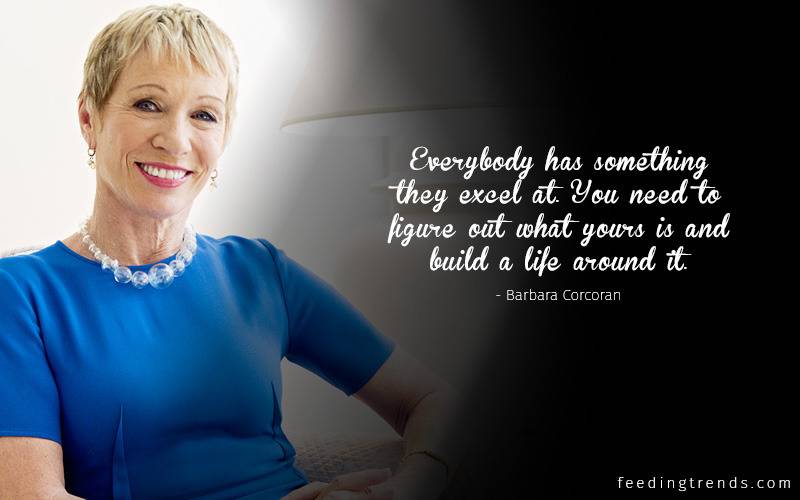 Each one of us has something special in us. The only thing that we need to do is finding out what we are best at. Barbara Corcoran beautifully pens down the fact on which wildly successful entrepreneurs base their life. The earlier you learn, the better you get!
18. Fun is the most underutilized tool in business today. Happy people always make good employees.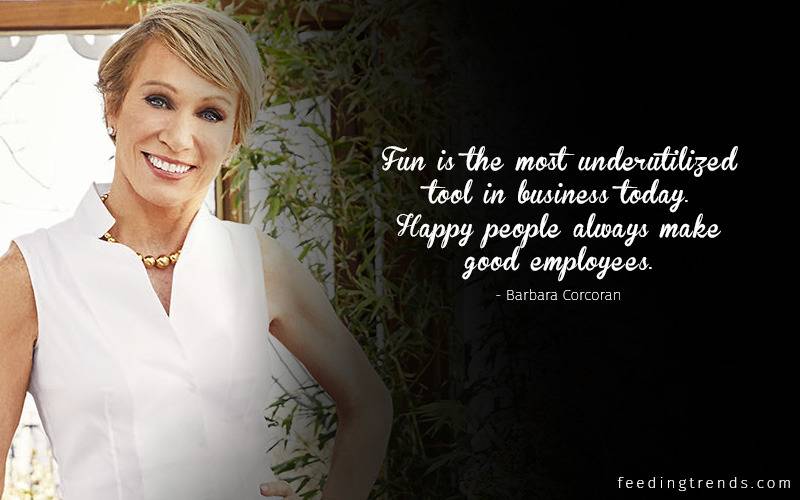 Business quotes about happiness at work are too neglected in corporate culture. But when you want to build an empire that lasts for long, you need to take care of your employees just as you take care of your customers. Rest things will follow.
19. The hardest part is taking the first step. After that, the direction is set, and forward momentum helps you all along the way.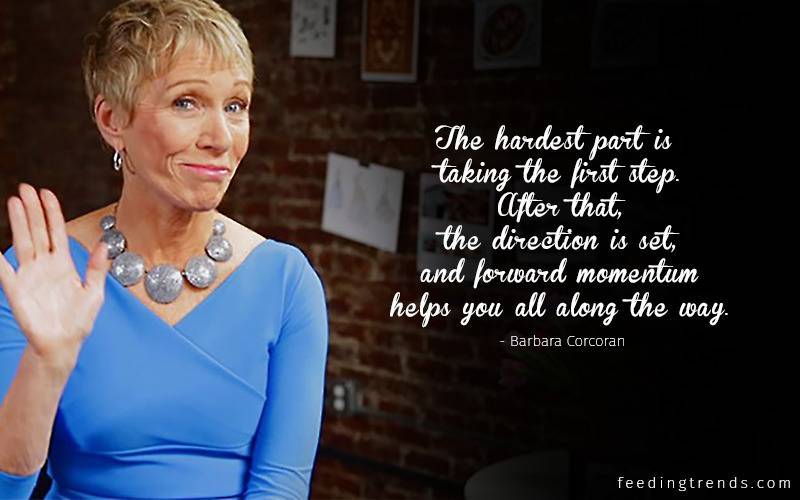 Talkers never get ahead, only doers do. This Barbara Corcoran quote about starting something of your own, tells you that there's lot you need to learn, but only if you start now. Until you start, problems and challenges won't show up and you won't learn to combat them well!
20. The best business partners have opposite strengths. I chose my partner because she was brilliant where I was terrible. Together we built a huge business.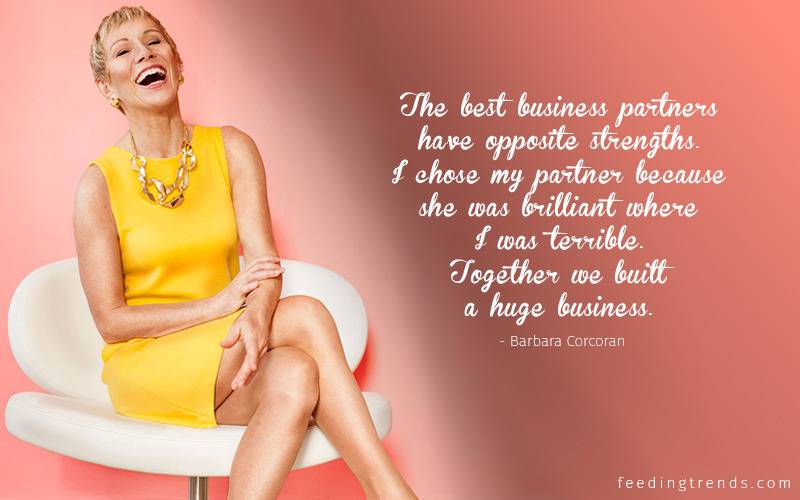 You cannot do anything all alone. It takes a whole lot of team to achieve something worthwhile. Barbara Corcoran had her mother, then her partner, then her whole smart team, to back her up. After all round support, things got easy for her.
21. Most wildly successful entrepreneurs are simply getting over early adversity in life.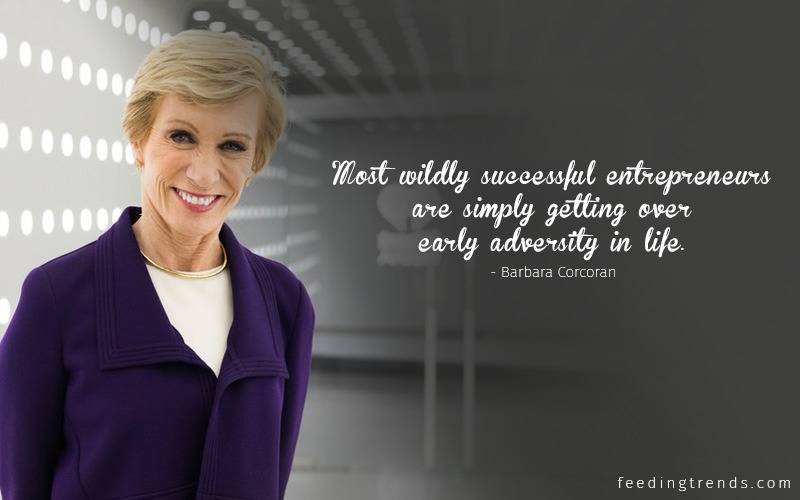 Every negative has a corresponding positive. You must refuse the negatives and keep moving forward in life. This is one of the many quotes about entrepreneurship, which most of us realize in our startup journey.
The best lessons in business are the ones that you get from the quotes by the most successful business leaders. These are 21 quotes by Barbara Corcoran that beautifully contain lessons for all aspiring and present-day entrepreneurs.
She has achieved great heights in life and these entrepreneurial quotes will help you to startup easy.
Just make sure you read them on Feeding Trends!